Some of my books are now out of print but with the wonders of modern technology I am able to provide them again via e-book.
The Fastest Ship in Space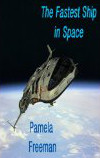 Originally published in 2002 as Shipborn.
Read the first chapter or buy at Amazon.
For Katie, exploring the far reaches of the Solar System in her family spaceship is just ordinary life – but living on Earth, now THAT would be exciting!
There seems no way she and her brother Sam, will ever see Earth, until they accidentally end up on the fastest ship in the System, on its way to the Moon.
But will they ever get there? Space Station security, smugglers, hijackers – not to mention their parents – all seem ready to stop them.
Kate and Sam aren't going to be pushed around. Neither is their gran…
The Fastest Ship in Space is actually the very first book I ever wrote, even before The Willow Tree's Daughter. I was asked to write it by a publisher after she had read a story of mine which was broadcast on ABC TV on a program called Watch! Your Language. The story was very short and ended with Katie, the main character telling her parents, 'I want to live on a planet. I want to live on Earth.'
I wrote the book but then that publisher decided that they weren't going to publish children's books any more, so I just put it away in a drawer. I wasn't really happy with it anyway, and by that time I had started writing the stories that eventually turned into The Willow Tree's Daughter. I was much more interested in them. So I thought it would never be published. Then, after the birth of my son, when I didn't have the energy to write anything new, I thought I might revise it.
The day after I took the printout from the archive box in the study, where it had been sitting for years, my editor Cathie Tasker came to visit me to see the baby and said, 'I've been wanting to talk to you about doing a science fiction book for us.' I dumped the printout in her lap and said, 'There you go!' I revised the book (another two drafts) and finally my first ever book was published in 2002, 11 years after it had been written!
The Tiger Bay Mysteries
Originally published in 2003 as The Network Mysteries.
Hair of the Skeleton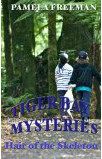 Read the first chapter or buy at Amazon.
Why is a ghost wailing outside Mr Callan's window every Friday? Jake, Peter and Ruby set up a high-tech stakeout to find out…
Then the ghost turns out to be the heir of the skeleton…
Hair of the Skeleton is the first book in the Network Mysteries series, which is set in a place called Tiger Beach and follows the adventures of three kids: Jake, his friend Peter and Peter's sister Ruby. Each story is told by a different character.
Hair of the Skeleton is told by Jake. Jake's character is based on one of my older brother's friends, Kevin, who was really competent and knew everyone.
To make this plausible, I have Jake living in a retirement village where his father is the caretaker. His mother is the community nurse. In a small town like Tiger Beach, that means that Jake gets to know just about everyone in the area – or at least be told about their doings by their proud grandparents in the retirement village.
I also wanted to have a lot of high-tech stuff in the stories (just because I like it) so I made Peter and Ruby's parents roboticists who have lots of scientist friends.
Scum of the Earth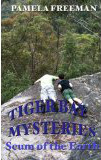 Read the first chapter or buy at Amazon.
Who is dumping toxic chemicals in the Tiger Beach creek? Ruby, Peter and Jake use biosensors, remote cameras and good old-fashioned detecting to find out.
Then they discover more than they bargained for…
Scum of the Earth is the second book in the Network Mysteries series, and is told by Ruby. It won the Environment Prize from the Wilderness Society, which was great, as I had really wanted to emphasise the importance of protecting our environment from chemicals.
I enjoyed writing from a different characters' point of view in this second book. It lets me rethink my other characters and the way they saw things. Makes everything fresh again, which is good in a series. But I would like to know if readers like it, or if they prefer having just one character telling all the stories. What do you think?
Trick of the Light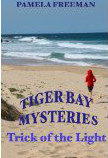 Read the first chapter or buy at Amazon.
When Tiger Beach High School is vandalised, Ruby's friend Kas is a suspect. She's determined to clear his name.
But Ruby, Peter and Jake find there are more disturbing things than teenage vandalism…
Trick of the Light is the third book in the Network Mysteries series and my personal favourite, as it deals with issues about racism against Asian people which I think need to be discussed. I was interested in this topic because my own father was in World War II and fought against the Japanese.
It was interesting to look at racism against an Asian people when some of my characters are Chinese or part-Chinese. It let me explore the idea that racism comes in many forms and sometimes from unexpected places.