Victor's Quest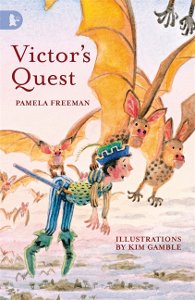 Prince Victor (who is not very smart) and his horse Quince (who is) set off on a quest to find a princess for Victor to marry. Bravely they venture into the Dark Forest of Nevermore, where things swoop out of the trees, and a witch is casting spells…
Victor's Quest is a separate adventure set in the world of Floramonde.
Prince Victor first turned up in a story called Betony's Sunflower, which became the last chapter of my first book The Willow Tree's Daughter. He was one of a number of princes that Princess Betony's father wanted her to marry. She set them a task, and all of them failed – the other princes because they weren't very nice people, Victor because he was stupid.
After it was published, I found that I was worried about Victor. It didn't seem fair to me that he should be unhappy just because he was stupid. So I wrote him a book of his own so he could be happy. And he is.
However, Victor's Quest has been the most popular of my books, and I've had lots of requests for more stories about Victor. So I have written a new story, Victor's Challenge
Victor's Quest is available in Australia from Booktopia or elsewhere from Amazon or from any good bookshop.
Victor's Challenge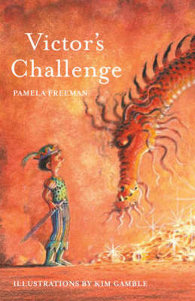 Victor is back with a brand-new quest to prove he is worthy enough to marry his princess.
Prince Victor and Valerian want to get married, but to marry Valerian, Victor must pass three challenging tests of bravery, endurance and cleverness.
Victor isn't worried about being tested for bravery and endurance; but a test for cleverness – that's enough to make his knees wobble.
Victor must go back into the Dark Forest of Nevermore to battle a fiery man-eating dragon, retrieve an armband from the peak of a wizard's glass mountain, and uncover a tail feather from the rarest bird in the world.
Once again, Victor proves that when your heart is pure and true, anything can happen, even where fierce dragons and enchanted mountains are concerned.
Victor's Challenge is available in Australia from Booktopia or any good bookshop.