Desert Lake has been having quite a time of it!
I've been very proud of this book, not only because it took seven years to write (!), but because Liz Anelli's illustrations are so magical that it's like walking around with an art exhibition in your hand.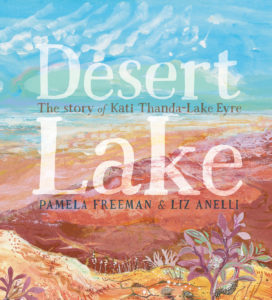 So, to update:
Desert Lake has won the Australian Standing Orders Librarians' Choice (Non-Fiction) Award. This is very dear to my heart, as librarians really know their books! And to be chosen by them is a great accolade.
It was shortlisted for the NSW Premier's Literary Awards (Patricia Wrightson Award), which was won by Leanne Hall for the wonderful Iris and the Tiger.
And now it's been shortlisted for the Environment Award for Children's Literature (Non-Fiction) by the Wilderness Society.
It was also a Notable Book in two categories from the Children's Book Council of Australia.
But the best news of all – it's going to be a Big Book – and I mean that quite literally! Very few picture books are chosen by publishers to be enlarged for group reading (where the teacher sits with the Big Book at the front and the class read it together). This is my 25th children's book, and I've never had a Big Book before! I'm so excited I can't tell you!
So keep an eye open for it in August, teachers, librarians and pre-schools. Liz Anelli's illustrations look even better when they're Big!