In World War I the British authorities wouldn't let enlisted men write proper letters from the battlefield, lest the truth dishearten the people back on the home front. The men were given postcards which said,
Dear ___
I am well.
I am wounded.
I am sick.
Yours,
______
The men were supposed to cross out the ones which did not apply. Imagine being a wife or mother or father or friend who received one of these postcards – especially since, quite often, the men only had pencils to fill them out with, so the words showed through the crossing out. Imagine reading 'I am well,' with the ghosts of other possibilities there… wounded, sick… and the unwritten, unwriteable, the ever present, dead.
The generals misunderstood their men. Those soldiers who did manage to write didn't tell the truth; they assured their loved ones that they were well, were eating heartily (even if they hadn't had anything but bully beef from a can for weeks), that they had friends (that was the true part), that they'd be home soon…
And instead of letters, which perhaps would say too much, when they were on leave in France the men sought out other postcards, made by local or refugee women – a 'home' industry which sprang up out of nowhere during the war. French and Belgium women in refugee camps embroidered strips of silk, which were then sent to a factory, cut up and inserted into the cards. There was a wide range of designs, with motifs based on the homelands of their customers*.
Have a look: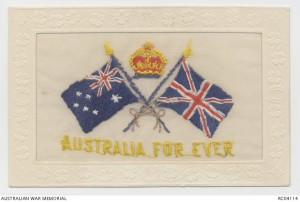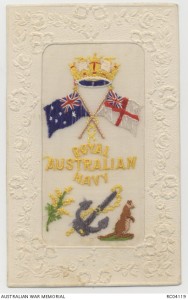 And from a time when the swastika meant good luck: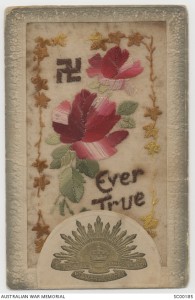 When I look at these, I think of the women who made them, resilient under terrible conditions, finding a way to support their families amid death and destruction. I think of the men who bought them, wanting to send a symbol of their love in a way which would lift their loved ones' hearts. And I think of the (mostly) women who received them and the tears and smiles the cards would have provoked.
My grandfather's name was Arthur, so imagine how I felt when I found this image: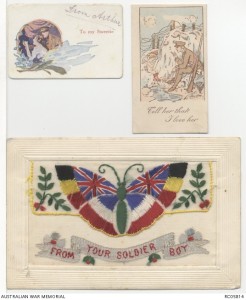 The catalogue says this came from 'France, 1914-1918'. And I know my grandfather wasn't in France – he was shipped home from Cairo after being wounded at Gallipoli. But still… there was an Arthur, just like him, a young man thinking about and longing for his girl.
So many stories. Maybe sometime I'll tell that Arthur's story…
* The Australian War Memorial has a fine collection of these postcards, which you can find here: https://www.awm.gov.au/findingaids/guide-silk-postcard-collection/
Scroll down to the bottom of the page and you will find links to the images of the cards.