The Princess Betony books were always going to be a series, but now the second book, Princess Betony and the Thunder Egg, is due to hit the bookshops in the first week of March, so booksellers will start shelving them in the series section!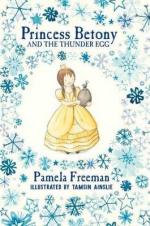 I"m getting more and more excited about the Betony books as I see Tamsin Ainslie's wonderful illustrations. You can check out some of them, plus games and free stories, at www.princessbetony.com
Click the Betony tab at the top of this page to see more information about the books!